The race was December the 4th, so almost a month ago! I had been doing pretty well (faster than expected, and no knee issues) during my training, so I decided to push it a little and run with a pace group. I wanted to finish around 2:00, so that's the pace group I picked. I figured I would try, and if it was too hard, it would be easy enough to back off and finish slower. Why not?
On race day, I got there super early and it was super cold. I didn't have gloves so I kept my hands in my pockets as much as I could. Brr! Luckily it had been a cold November leading up to the race.
When it was race time, I headed toward my corral, but it was so crowded it took me a while to finally push my way though. I found the pace group just as the race was starting, and we all crossed the start line. The pace felt faster than I thought it should, but my Nike+ app confirmed that we'd finished the first mile right at our expected 9:04. Actually, it was 9:03. Pretty good pacer!
After a couple of miles, though, my knee started to hurt. I was hoping that it would warm up and stop, but it didn't. So, for the rest of the race, my knee hurt. Pretty annoying, since it hadn't given me any issues over the past 8 weeks.
Since this race was a "Rock 'n' Roll" race, there was music at almost every point along the way. There were some good local bands and some loud speaker systems. I totally sang along with some of the tunes, like
Gimme Three Steps
.
At one point, I ran around the corner as was greeted by a giant inflatable Brooks rocker wielding a guitar,
and wish I had a picture
. He was a fun surprise. I found one: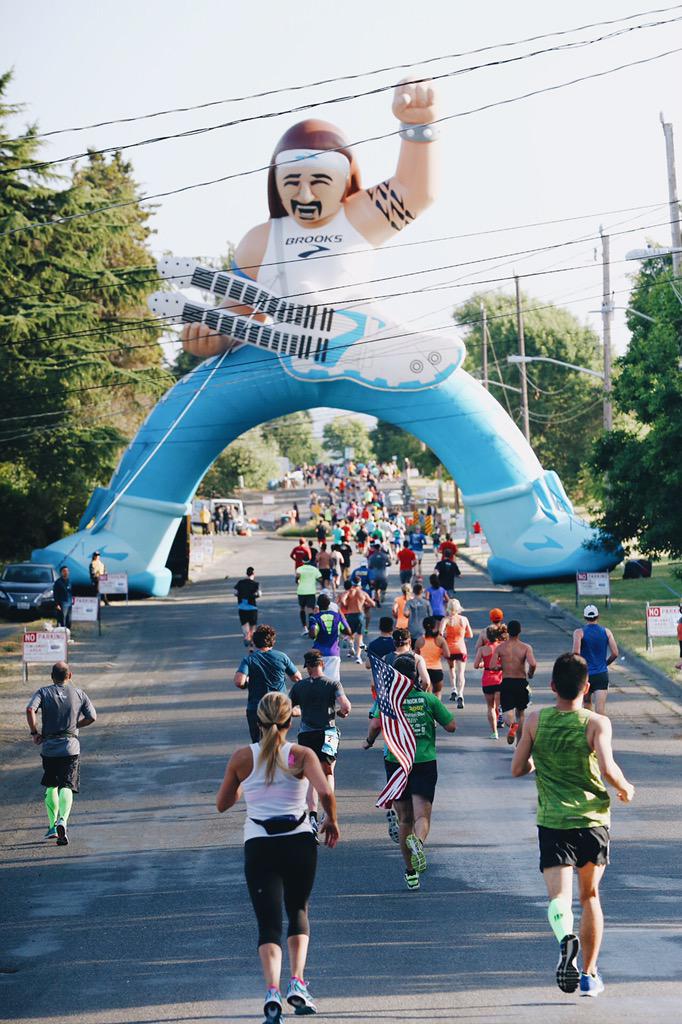 Via @Andrew_Carlson on Twitter.
There were lots of cheerers. I think half the student body of Trinity University came out to cheer and brought their giant foam tiger paws for high fives.
My favorite were two women (employees?) standing out front of an old bank building downtown. One of them was smoking a cigarette, and they were both yelling, "Run!! We got MONEY on y'all!" Hi-larious.
The course itself was supposed to pass the Alamo and some other cool spots, but sadly, there were so many people I was trying not to run into or trip over, I didn't see much of it. I missed the Alamo, which I confirmed by watching the course video the race put together:
Cute video, but not a true depiction of the race with four people merrily jogging along.
In the end, I pushed through the knee pain and left my pace group behind for the last few miles. I was pretty proud of myself, and of course am planning my next half already. Something smaller I'm thinking.
Of course I have to give a shout-out to Chris for going with me this weekend. He dropped me off at 6:30 and found me once along the course for some motivation. He was also at the finish line cheering, which makes a girl feel special. (Aaaawww!)
Here are screen-grabs of the cute stats the RNR website puts together for you: